NOTE: August 25, 2019 -
Our 2019 workshop calendar is below, including classes in San Francisco and New York…as well as a very special retreat-style learning opportunity in Tuscany, Italy!
I have dozens of lovely standing invitations from international schools/hosts and I would LOVE to travel to them all! When my son is old enough for us to be apart for longer periods of time, I will look into more of these amazing opportunities. In the meantime…
I have a new course launching TODAY through www.IfIMade.com…I'm very excited about this one—A New Movement in Cake Design. Learn more here: https://www.ifimade.com/a-new-movement-in-cake-design-with-jasmine-rae/course-home
My previous courses on Cake Business, rough textures, and rice paper flowers is always available through If I Made, here: https://www.ifimade.com/jasmine-rae/course-home
October 21-23, 2019
3-day Reimagining your Cake Art Business
San Francisco, USA
Please contact us at inquiry@jasmineraecakes.com
November 2-3, 2019
TBD workshop
New York, NY
Please contact my illustrious host, info@MadisonLeescakes.com
November 4-5, 2019
TBD workshop
New York, NY
Please contact my illustrious host, info@MadisonLeescakes.com
April 5-10, 2020
6-day Cake Art Exploration RETREAT in Tuscany
near Chiusi, Italy
Please check out the landing page: https://stradatoscana.com/jasmine_rae/
An Online Course with If I Made
https://www.ifimade.com/a-new-movement-in-cake-design-with-jasmine-rae/course-home
It's about the MECHANICS of creating from a place of self-awareness, creating from your inherently unique vantage point, so that, whether you go the route of a generalist or a Specialist, you'll be orienting from an internal compass. From this perspective, you are always the authority on what works for you. You can still assimilate important fundamentals about business or art, but you'll be integrating them coherently into your own strengths and weaknesses. This is the MAIN FOCUS of the new course. It calls out that we are 'in a Cake Movement' by working with our individual movements--our aliveness. It's about how exactly to find and develop our own artistic voices by following our aliveness.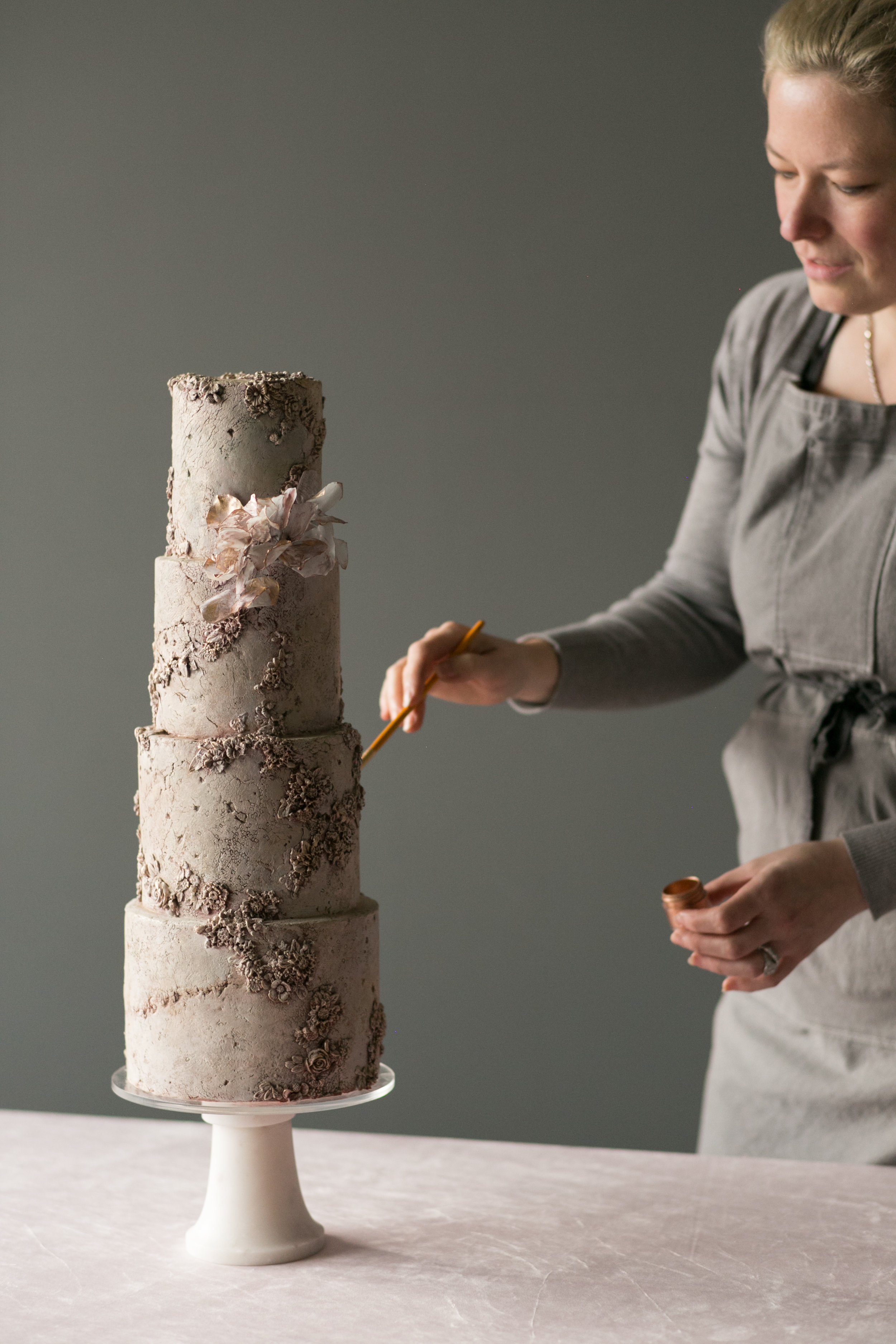 An Online Course with If I Made
http://www.ifimade.com/jasmine-rae/course-home
This course is about learning principles that may help YOU find YOU, your own voice, a voice you may want to share with the world in the robust form of a thriving business. This course isn't about a formula, isn't about tips and tricks, or how to be me. I'm extremely proud of the class we have created for you, because it was about using myself as an example of a journey. Though this online workshop is rooted in practicality, technique, and lessons, it's also beautiful, and most importantly, it was about sharing a perspective, principles, and an approach to myself as an artist. My hope is that you'd be able to do the same and end up with something uniquely YOU. This course was designed with the hope that something will resonate for you and be immediately applicable to your life and business.
In the first part of the course, The Business Behind Cake Design, I'll walk you through some things I've learned about owning and operating my own business, including how I started Jasmine Rae Cakes, how I found and (continue to) develop my voice as an artist, my philosophy on pricing and ways I believe the wedding industry needs to change, and how I manage my team and client logistics.
In the second part of the course, The Art of Cake Design, I'll teach you numerous advanced decorating techniques that are essential to some of my signature cake designs. Starting with some familiar (and unfamiliar) tools and materials, I demonstrate how I approach rough stone/marble/granite, bas relief, metallic finishes, and how to age those textures. This is also the first time I am teaching how to make my rice paper flowers.
For me, techniques and tips are simply an ACCESS to skill-building. It IS helpful for growing artistically, and I do want to show you what I've learned so you can expand your repertoire...but I believe the MAIN function of teaching, of sharing MY self, is to be so clear in showing you MY perspective, that you feel more clear about your own, about YOUR self. Working on your personal expression as a cake artist will change your business. Instead of continuing to make yet another popular Pinterist pin cake, you'll be making work that is unique and inspired...professionally.
It is a process, and it takes time, ripening, and it takes support.
REIMAGINING YOUR CAKE ART BUSINESS
3-day In-Person Workshop
The focus of each workshop is on you and your artistic process. In preparation for, and during the workshops, you will develop your narrative as an artist, as well as explore how to use the techniques I teach to expand the repertoire of your expression. You will walk away with a piece that is wholly your own, along with more clarity about the relationships between your life, your business, your art, and how it fits into your communities. This is an investment that is designed to pay for itself many times over.
A 3-day course, from 10-5pm, covering two related areas:
Reimagining your Cake Art
The 3-day intensive takes place in the artist building where my studio is located in San Francisco. We'll be surrounded by professional artists who live in this inquiry from a variety of mediums. There will be conceptual and practical components, free play, new techniques (including rice paper flowers), and guests artists to lend tangential perspectives.
When I launched my course with If I Made, I was roused by the strife of the cake community, the pervasive devaluation that occurs for us as artists, as well as systemically from our clientele. It can be a lonely venture—how do you ever know if your business is on the "right track"? After 13 years, I still ask myself this—whereas before it was framed in Anxiety, today is it cushioned by Inspiration. This workshop is for the cake artist who seeks to make their work more personal, and furthermore, to make their BUSINESS more personal. The business of art can feel elusive, or inherently conflicted, so this course is designed to help you explore new perspectives, to Reimagine harmony in your art and your business, and to identify realistic actions toward that shift. It's about creating a business that cares for you and sustains you.
The principles of this class translate to other areas of your art, as a business requires always straddling the line between understanding a client's desires and your own pure expression. The content dovetails cleanly into the second portion of the workshop: essentially how to be in the Business of Art, or The Creative Business.
The Creative Business
Getting real about the cake industry—why are cake-makers one of the poorest-paid vendors for weddings? We'll share in exercises to help transform our perspectives on value: self-worth and perceived value at large.
What do you need to own a cake business, and more importantly, how do you create YOUR unique cake business in a sustainable way?
Students will also have an opportunity to book an additional 1-on-1 business discussion session. You can bring a business plan (in any form)
All courses come with a handsome handmade apron by Danielle M Estrella, breakfast, coffee, lunch, and cookies, all needed supplies, and a gift
$2090
1-day in-Person Workshop
This workshop is all about surrender. This material can be influenced, but not controlled. This workshop will focus not simply learning the techniques associated with creating flowers from this most beautiful and ethereal edible material, but on the PRINCIPLES of making a relationship with your materials. Students will benefit from discussions on how that might apply to other areas of their artistic process, business…and life!
Class size: 6
$480
Private Instruction
$2160/Day
Learning isn't simply about being bestowed with new skills; the conversations of an in-person learning setting are much more personal than reading a book or watching a video tutorial. My hope is that working with me, discussing your artistic path, and exploring our shared art form together, will help "scaffold" your techniques and unique expression. The content of the one-on-one time can vary and be customized to your interests, as our focus will be on you and your artistic process. I will be your witness and guide. You'll create a final piece that demonstrates your unique design choices and the style of your hand. Your piece will be professionally photographed and you will learn tips on how to photograph your own work.
Class size: 1-2
Includes a handsome handmade apron by Danielle M Estrella (@daniellemestrella), breakfast, coffee, lunch, and all class materials
To Register for a Workshop or Private Instruction
Please email us (inquiry@jasmineraecakes.com) with answers to the following questions. Please keep in mind that each workshop must meet a booking minimum to run. Spots will be filled on a 'first come first serve' basis. If a class is booked before you contact us, we will be sure to put your name on a waiting list for workshops in the future.
Please tell us…
- The Workshop (and date) for which you would like to register
- Your Name
- Your Business name (if relevant)
- Your City of residence
- A little about your experience with cake decorating
- Anything else about yourself you would like to share